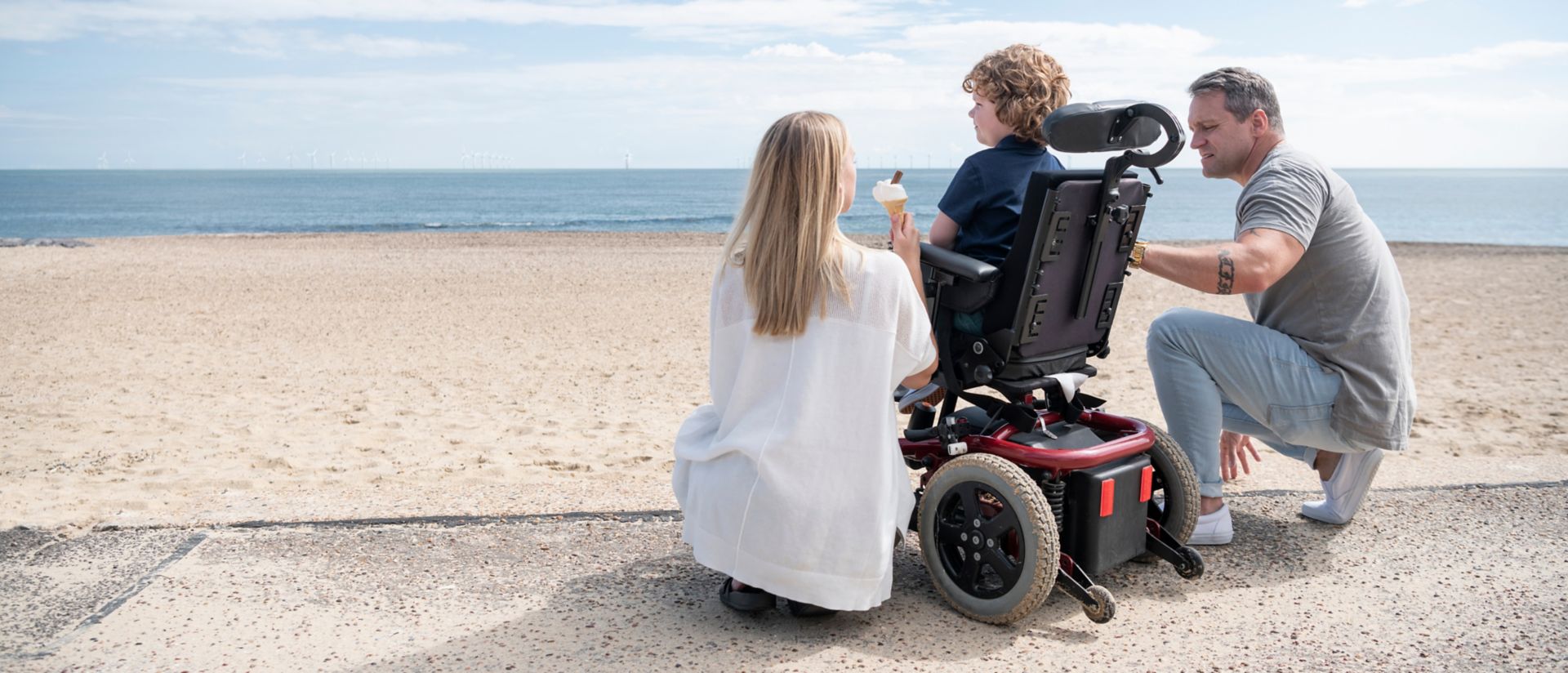 Invacare: Transforming e-commerce platforms to meet evolving customer expectations
Putting patients at the center of care
Invacare, an American medical equipment manufacturer, worked through an aging e-commerce system that could not keep up with modern market needs. It overhauled its processes and implemented SAP Commerce Cloud, SAP CPQ, SAP Business Technology Platform, and SAP S/4HANA Cloud, public edition to empower sellers to tailor equipment to quickly meet customers' diverse needs.
increase in sales in Canada after launch.
wheelchair configurations tailored to specific customers.
Trimmed from quote-to-order processes
During the COVID-19 pandemic, we found ourselves less capable of creating quality medical support products for our customers since we did not have an e-commerce platform with enough agility to meet consumer needs. We needed to completely revamp how we delivered products to the end user.
Angela Goodwin
CIO, Invacare Corporation
Tailoring products and experiences to customers' diverse needs
As a manufacturer, designer, and distributor of assistive medical devices for people with congenital, degenerative, or acquired ailments, Invacare Corporation prides itself on its ability to improve the lives of its customers with customized products. It produces a wide range of equipment, from bariatric aids to wheelchairs, in nations across the world. However, the company quickly found its e-commerce platforms were unable to keep up with the expectations of customers in the 21st century, specifically because of its lack of standardized digitalization and customer self-service.
During the COVID-19 pandemic, Invacare realized that its method of properly outfitting customers for equipment – which often required physical meetings with clients to take their specific measurements – was an inefficient way to meet consumer needs. Additionally, the company's siloed administrative and insurance quotes and access to relevant customer sales data often increased the time it took to deliver products to customers, which decreased satisfaction. It looked to transition its e-commerce dealings to a more modernized, customized platform that could adapt to the diverse needs of the 21st-century market.
With the implementation of SAP Commerce Cloud, SAP CPQ, and SAP S/4HANA Cloud, public edition, we've built a solid foundation for the business, giving us more agility to better serve customer needs into the 22nd century.
Angela Goodwin
CIO, Invacare Corporation
Increasing customer self-service with digitalized e-commerce platforms
Invacare needed a customized approach to tackle its goals of digitalization. Through careful deliberation, the medical manufacturer decided to use a combination of the SAP Commerce Cloud solution, the SAP CPQ solution, SAP Business Technology Platform (SAP BTP), SAP Integration Suite, and SAP S/4HANA Cloud, public edition. This potent combination of solutions, coupled with a technological partnership with Birlasoft Limited, offered the diverse range of technology the company needed to completely overhaul its e-commerce platform. Now with SAP Commerce Cloud integrated with SAP S/4HANA Cloud, public edition, Invacare has one advanced e-commerce platform supported by unified data and analytics.
Through SAP Commerce Cloud, the company can nurture its business-to-business customer experience, which is essential to its overarching goals of increased production efficiency. With it, Invacare can also eliminate siloed, unstandardized manufacturing and distribution processes. The company also increased the speed of its administrative tasks with SAP CPQ. It used SAP BTP and SAP Integration Suite to consolidate its processes onto one unified platform that's enriched with AI, data analytics, and other processes that increase efficiency. Invacare also leveraged the SAP S/4HANA Cloud solution for customer payments. This solution gives customers a self-service tool to make invoice payments using bank or credit cards. And it offers simplified and secure processing of electronic payments with better control over time of payment and cash flow management.
We partnered with Birlasoft to lead our business transformation, using intelligent technologies from SAP to connect our operations and make Invacare easier to do business with.
Angela Goodwin
CIO, Invacare Corporation
Overhauling customer, distributor, and administrative experiences
Since implementation, Invacare has noted a significant increase in its operation's efficiency. The company was able to quickly integrate the new solutions with SAP Integration Suite and the assistance of Birlasoft experts, which significantly reduced the transition time frame. Additionally, the company was able to reduce the amount of time it takes to measure customers for their devices with innovative self-service input. Invacare overhauled its administrative and insurance quote processes as well, which has improved customer satisfaction by increasing delivery speed.
The solutions also make the lives of Invacare salespeople easier by enabling them with a unified, single source of data truth, which grants access to information regarding customer data and sales history. Invacare business partners can access appropriate global data banks that allow them to make more informed financial and manufacturing decisions. Overall, Invacare has future-proofed its e-commerce processes, meaning it is now much more capable of tailoring products to consumer needs in the 21st century on a global scale.
SAP helps Invacare run better
Key business outcomes and benefits
Increased quality and accuracy of complex quotes, which speeds administrative and insurance approval processes
Slashed time needed to measure customers for equipment, satisfying customers with on-time order fulfillment and delivery
Enabled salespeople with more customer data and order history information
Provided an immersive experience with integrated back-end systems on a uniform platform with SAP Integration Suite, decreasing transition times
Decreased time required to transition to new systems with the assistance of Birlasoft Limited
Featured solutions and services
SAP Commerce Cloud helps businesses innovate at scale and tap enterprise-wide data to grow profits and customer satisfaction.
SAP CPQ provides rich customer experiences by empowering businesses with complex product configurations, optimized pricing, and intuitive proposals.
SAP Business Technology Platform brings together data and analytics, artificial intelligence, application development, automation, and integration in one unified environment.
SAP Integration Suite is an integration platform that allows businesses to quickly merge applications and processes with tools and prebuilt content managed by SAP.
SAP S/4HANA Cloud, public edition is ready-to-run cloud ERP that delivers the latest industry best practices and continuous innovation.
About Invacare
Invacare Corporation is an American medical manufacturer that produces and distributes quality medical equipment for home and long-term care. It markets its products in over 100 countries across the world. Founded in 1885, Invacare has embodied a customer-centric approach that allows it to deliver a comprehensive range of home healthcare products that help make the lives of its customers easier.
Featured partner
Birlasoft Limited, a member of the CK Birla Group, employs over 12,000 people who are dedicated to creating information technology solutions that help businesses run more efficiently. The company assists banking, insurance, and manufacturing companies by delivering quality data management, supply chain, and consulting solutions.