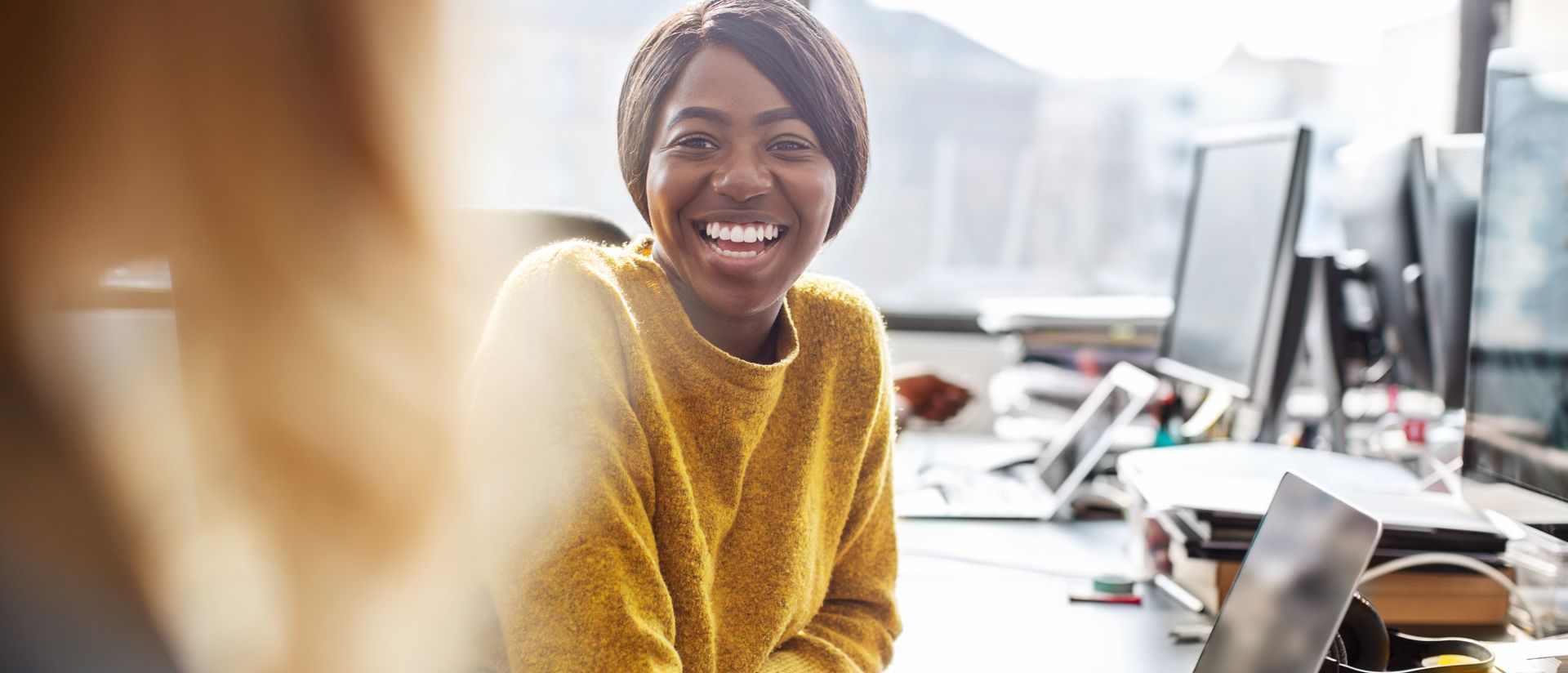 Sanlam: Fostering an inclusive, equal, and engaged workforce fit for the future
Explore Sanlam's journey with SAP
To help become Africa's leading financial services group and build a diverse, future-ready workforce, Sanlam wants to attract the best people. By moving to a shared-services HR model with SAP SuccessFactors Human Experience Management Suite, it can deliver consistent experiences to workers, empowering them to learn, lead, and live its common purpose.
reduction in manual effort for reviews due to better analytics.
decrease in time to fill high-volume graduate roles.
of performance forms completed on time, after no previous visibility.
SAP solutions enable us to build up and strengthen the skills and diversity of our permanent and contingent workforce that we need to stay competitive in a rapidly changing world.
Jeanett Modise
Group HR Director, Sanlam Life Insurance Limited
Building a future-ready workforce
As one of the biggest financial services groups in South Africa, Sanlam strives to become the unrivaled industry leader in Africa and to strengthen its position abroad. Being a knowledge-based organization, it relies on its people's capabilities to achieve this and to stay competitive in a rapidly evolving world. It wished to attract, hire, develop, and retain the best people to meet current and future market needs.
The company's decentralized business model resulted in inconsistent employee experiences and limited talent mobility across the group. And with multiple disparate data sources, reporting and analytics were variable, complex, and time-consuming.
To create an empowered, engaged, agile, and diverse workforce, Sanlam decided to digitalize and transform its HR function to focus on the employee experience. It wanted to adopt a centralized shared-services model, while keeping customized services decentralized where it made sense, to deliver exceptional experiences for both permanent employees and contingent staff.
Our people are key in enabling our business success and sustainability, so we try to understand employee needs in this new world of work. To meet these expectations and provide meaningful experiences and services for our people, we continuously evolve our HR strategy.
Jeanett Modise
Group HR Director, Sanlam Life Insurance Limited
Empowering continuous learning and growth through consistent experiences
A longtime SAP customer, Sanlam selected SAP SuccessFactors Human Experience Management Suite (SAP SuccessFactors HXM Suite) as the foundation for its groupwide HR function. With the SAP SuccessFactors Employee Central and SAP Analytics Cloud solutions to address analytics and KPIs, it centralized core HR processes and reporting. HR and payroll information imported from the on-premise SAP ERP application is available in SAP Analytics Cloud, which is integrated with the finance and business intelligence platforms.
There's also integration between the SAP SuccessFactors Recruiting solution and LinkedIn to help drive the recruitment process. The SAP SuccessFactors Learning solution, integrated with SAP Content Stream applications by Skillsoft, enables employees to take advantage of Skillsoft's expansive digital library of content and intelligent training platform, increasing learning engagement. And to drive mobility and give staff access to HR services anytime and anywhere, Sanlam built a mobile app based on SAP Business Technology Platform and the SAP Fiori user experience.
The SAP Qualtrics Employee Engagement solution allows the company to continuously capture feedback from permanent and contingent employees and use the insights to take targeted action to make improvements. By integrating the solution with SAP SuccessFactors HXM Suite, it can listen to employees at lifecycle moments that matter. The company is also implementing SAP Fieldglass solutions to manage external employees, comprising 28% of the South African workforce, who were previously onboarded and managed on an ad hoc basis.
SAP solutions are helping us achieve our diversity and inclusion goals. Greater visibility into the total workforce and transparent, improved reporting capabilities allow us to set recruitment and succession targets around race, gender, and disability.
Jeanett Modise
Group HR Director, Sanlam Life Insurance Limited
Empowering a diverse workforce
The centralized HR processes are delivering consistent experiences for employees and managers. Crucially, SAP SuccessFactors HXM Suite gives Sanlam valuable insights into employee skills and competencies so it can establish which critical skill sets are underrepresented and take targeted action to reskill and upskill its people for the future. For example, in anticipating that many underwriting tasks will be automated using robotics, the company is equipping underwriters with other competencies, such as forecasting and data-analytics skills, for assuming new roles. The deep dive into employee experiences allows Sanlam to hear about their issues and make improvements, such as when it immediately introduced new health and well-being programs and policies in response to staff feedback.
SAP Analytics Cloud simplifies groupwide reporting across lines of business and provides rapid insights with dashboards, empowering managers to make better, data-driven decisions. And using SAP Fieldglass solutions makes it more straightforward and cost-effective for HR staff, vendors, and contractors to procure and oversee contingent talent. By integrating these solutions with SAP SuccessFactors Employee Central, Sanlam can manage its contingent and permanent workforce from a single place, improving efficiency and reducing cost. SAP solutions are helping foster a high-performance and agile workplace that drives accountability and exceptional experiences for staff and managers alike.
We have all the information we need at the drop of a hat. For instance, we can report on the number of black, African females with five years of experience and an MBA as potential candidates for a leadership role, with SAP SuccessFactors solutions acting as a type of internal recruitment portal.
Ronel Pfotenhauer
SAP SuccessFactors Portfolio Product Owner, Sanlam Life Insurance Limited
Taking full advantage of SAP SuccessFactors solutions
SAP SuccessFactors, SAP Fieldglass, and SAP Qualtrics Employee Engagement solutions will be used by 23,200 Sanlam employees in South Africa and Namibia, with future rollout plans for its global workforce. The company is also looking to use the SAP SuccessFactors Employee Central Time Management application and integrate it with SAP Analytics Cloud to track trends and patterns in holiday leave, for example.
Sanlam hopes to take advantage of the SAP SuccessFactors Opportunity Marketplace solution to support the reskilling and upskilling of its workforce. This will provide employees with intelligent, individualized recommendations for learning and enable Sanlam to track how employee skill sets change over time – and help ensure it fills any gaps.
The company also intends to align the SAP SuccessFactors Compensation and SAP Performance & Goals solutions and integrate them with SAP Analytics Cloud. This will allow it to search and compare gender-pay-gap data, with the aim of ensuring equal pay for work of equal value for all employees. Finally, Sanlam is working to automate the movement of data from SAP Qualtrics Employee Engagement to SAP Analytics Cloud with a live connection, instead of importing the data manually.
SAP helps Sanlam run better
Key business outcomes and benefits
Increased business efficiency and agility by offering a centralized shared-services model for HR
Bridged the gap between permanent and contingent staff by offering the same service to both
Mitigated critical skills loss and facilitated employee development and retention
Helped meet diversity and inclusion goals with KPIs on race, gender, and disability
Enabled managers to listen to employees and take targeted action to resolve issues
Increased learning engagement by giving employees access to digital training resources
Featured solutions and services
SAP SuccessFactors Human Experience Management Suite offers individualized experiences and strategic solutions, with mobile self-services for employees available anytime, anywhere.
SAP Fieldglass solutions offer a cloud-based, open vendor management system that helps companies find, engage, manage, and pay external workers anywhere in the world.
SAP Qualtrics Employee Engagement helps companies manage employee experiences effectively by continuously capturing feedback and using those insights for ongoing improvements.
SAP Analytics Cloud combines business intelligence, augmented and predictive analytics, and planning capabilities into one cloud environment, supporting advanced analytics.
SAP Business Technology Platform brings data management, analytics, AI, application development, automation, and integration into one, unified environment.
About Sanlam
Offering life insurance, financial planning, asset and wealth management, and stockbroking services, Sanlam Life Insurance Limited is a diversified financial services group with operations in 33 African nations and 43 countries globally. Winner of a 2022 Top Empowerment award and certified as one of the top employers in South Africa, its core pillars are diverse products, partnerships, technology, and sustainability.