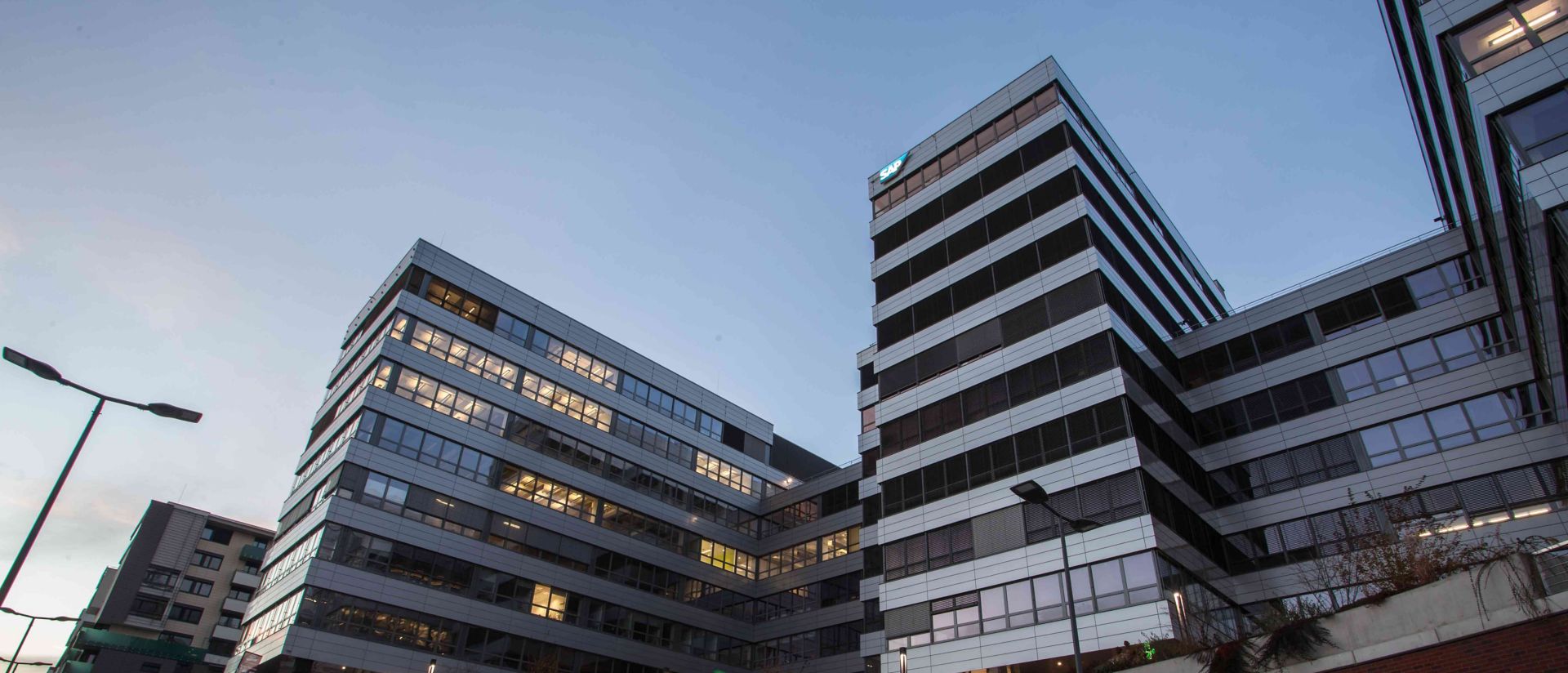 SAP in Prague  

Prague, lying at the heart of Europe with a history going back a millennium, is not only one of the continent's finest cities but also an important location playing a crucial role in SAP's success.
Playing a crucial role in SAP's success
With expertise spanning a wide range of business functions, products, and services, our Prague colleagues support SAP operations around the world.
~2,600
Employees representing 93 nationalities
Side by side, in a fast-paced, agile, innovative space created for our employees, our teams collaborate to bring together a multitude of businesses that helps the growth and overall success of SAP.  

People at SAP are unique individuals united in their mission to solve the world's biggest challenges and succeeding – together. And, we want you to be part of it!
Where do you fit in?
Together with SAP Services, SAP Ariba, SAP CR and SAP Concur we are creating the future together under the vision of "One SAP".
Career opportunities in the spotlight
At SAP, we combine your talents with SAP opportunities to create an amazing career for you.
At SAP we see great potential in early career talent, and we're not afraid to entrust great tasks to you from the start.

We believe experience and opportunity are paramount. Having just graduated from university, your education won't end there. At SAP, learning happens all the time and in many ways: on the job, through interactions with your peers, through formal learning activities, and by using a variety of tools.

Our people truly are our greatest asset, and we love investing in them. We won't throw you in at the deep end, but you won't just sit at a table and read the manuals either. New joiners become experts only by everyday work on projects. That is why we'll involve you in partial tasks as soon as possible and give you space to shine.

You will get to know some of the best companies up close and learn under the guidance of experienced professionals.
SAP Internship Experience Program
SAP iXp is a global internship program successfully running since 2014. Within this program, SAP is hiring interns across all lines of SAP business in Prague and Brno. We offer internship opportunities in Finance, HR, Software Development, IT Management, Customer Support, Sales and Marketing. The internship is fully paid, lasts 6 months and could be either part-time or full-time. Successful interns have the opportunity to become permanent employees and shape their career within one of the largest software company in the world!
Would you like to pursue the projects and career paths that align with your professional interests and goals, strike a great work-life balance, take advantage of mentorship programs – and grow your career in any direction?
At SAP, you'll work with companies that are literally changing the world. With a world of resources and projects that feel more like opportunities than work, SAP is a company like no other. At SAP, you'll have the freedom to get the job done your way, you'll innovate with other creative colleagues and be recognized for your unique contributions.
Learn about life at SAP in Prague
What makes SAP in the Czech Republic special is our strong culture of volunteering and our sustainable corporate social responsibility (CSR) policy.

At SAP, we are always looking for ways to do our part and make people's lives better. SAP's three strategic program pillars focus on building digital skills, accelerating best-run nonprofits and social enterprises, and connecting employees with purpose to help ensure everyone can participate in and benefit from today's digital world.
True heroes
True heroes often don't look like heroes. They come in all shapes and sizes and make a difference in so many ways. Each of us can be a hero and apply our unique talent and time to help improve the lives of those who need it.
As a company we donate our time, talent, and technologies to help our community. We work hard to make SAP a better place for our employees and for everyone. Through our "Month of Service" every year SAP employees in the Czech Republic volunteer across different available projects - painting schools, building and improving Eco gardens, helping the elderly prepare for winter, giving hand by cleaning up in animal shelters, and many other activities.
Meet and Code and Grant Opportunities
At SAP, we believe everyone deserves a place in the digital economy. SAP Corporate Social Responsibility (CSR) fosters digital inclusion and creates opportunity for underserved people and communities through programming and partnerships that build digital skills. SAP's education initiatives help people attain the relevant 21st-century skills to thrive and secure decent meaningful work, including entrepreneurial pursuits in a digital world.
In cooperation with Czechitas and DofE (Duke of Edinburgh), SAP is organizing coding events for children to introduce them to the world of IT with the intention to develop their digital skills. Meet and Code is a project that gives children, teenagers, and young adults the chance to meet and program together, it is not about learning in the conventional sense, but about actively developing the skills needed to bring ideas to life. It is about discovering one's own "digital potential."
As for Grant Opportunities, SAP carefully selects non-profit and social enterprise partners primarily in the areas of quality education, workforce preparedness and youth entrepreneurship. SAP financialy supports three major projects within the Grant Opportunities framework: Czechitas, Sense and Sensitivity, and DofE (Duke of Edinburgh).
At SAP we strive to ensure an inclusive environment by attracting and retaining the best people, regardless of their background.
Our diverse and inclusive culture makes SAP a better company. It fuels innovation, enhances our work experiences, and helps us succeed in a rapidly changing world. We value every individual for what they have to contribute – and we are committed to the day-to-day practices that bring diversity and inclusion to life.
Autism at Work
SAP was the first global tech company to create a program to leverage the unique abilities of people with autism and currently is running the program in 13 countries. Autism at Work has been a life changer for over than 180 colleagues who joined us worldwide. This is another example of how SAP continues to help the world run better and improve people's lives.
People on the autism spectrum typically have a systematic and logical mindset which makes them excellent potential employees for the technology sector. However, they often struggle to be recognized, resulting in a poor employment rate. Autism at Work is trying to end this gap and help a disadvantaged community by helping people on the spectrum get through the hiring process and find a job where they can excel and become valuable and respected members of the team.
At SAP in the Czech Republic this program integrates people with autism into our workforce by giving them roles in HR, IT, and Finance.
Pride@SAP
At SAP, we are dedicated to eliminating bias in the workplace and want to enable every individual to be recognized for what they have to contribute – and have the freedom to be their authentic selves.
Pride@SAP is a Global Employee Network with more than 8,000 members worldwide and was founded back in 2001.
Our colleagues from Pride@SAP in Prague support and organize many events throughout the year, from charity events, BBQ parties in our office terrace, virtual Stand-up comedy, FUN&RUN - a charity run against homophobia, to Prague Pride Parade, one of the highlights of each year.

Besides fun and engaging activities, this initiative also focuses on education. Pride@SAP delivers sessions with the intention of creating awareness around LGBTQ topics, showing the unique challenges that our members face, and driving empathy and understanding within the SAP culture.
Be EPIC
Be EPIC is a platform bringing people and ideas together, focusing on creating positive change through ongoing conversations. It is a purpose-driven, future-focused group of people encouraging everyone to be Equal, Provocative, Inspiring and Connected. Be EPIC means questioning the status quo, being a role model and working as one team in a diverse environment. Do you have everything it takes to Be EPIC?
80+  
Employee Network Groups globally
Employee Network Groups
Employee Network Groups are voluntary employee groups that collectively create a culture of inclusion, and a workplace that supports diversity in its multiple areas. The groups work together: support each other and learn about interracial and unique challenges that our members face, show awareness, and drive empathy and understanding within the SAP culture.
At SAP we are focusing on achieving our goals together and learning how we can create a culture of acceptance for those who are different than us.
There are over 80 Employee Network Groups globally at SAP, employees can join any of them based on their preference, office locations and even virtually.
The Metronom – an office with a vision
Employees across our business units were involved in designing and equipping the new Metronom spaces to truly reflect their preferences. As an ultra-modern and agile work environment, the Metronom features themed relaxation rooms, a gym, outdoor fitness stations, billiards tables, table football, a sky bar, terraces with small gardens that can be used for shared urban gardening, phone booths, privacy pods, a kids' room, and more.
Be a better you!
Relying on the engagement and the purposeful action of our diverse workforce, SAP works continuously to provide an outstanding employee experience. At SAP, we recognize that different people have different needs, and our benefits extend beyond healthcare coverage and retirement plans, with a variety of global and local options to help you juggle the demands of your career and life. Your particular benefits package is your choice and will depend on your position, location, and years with the company – and all packages come with plenty of flexibility for you and your family.
SAP office locations in the Czech Republic
You may also be interested in…