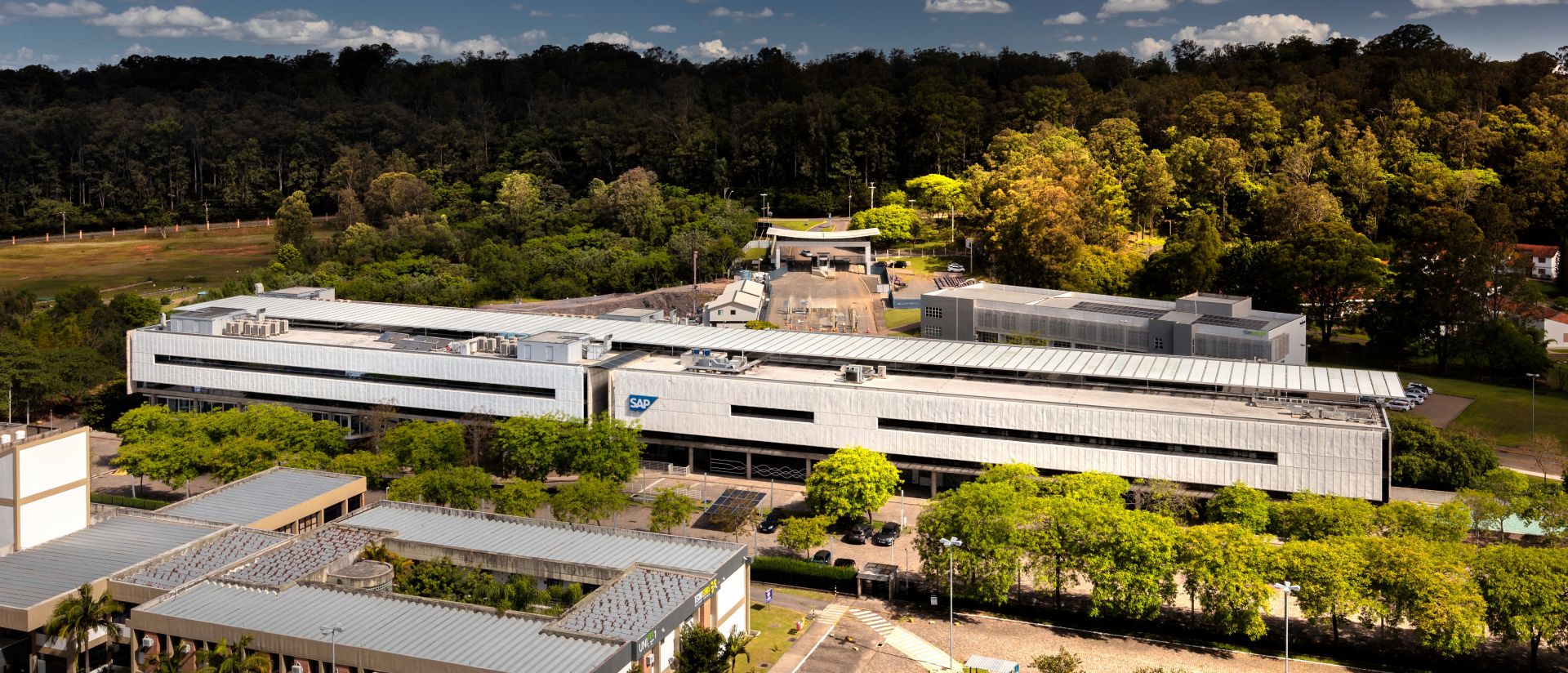 Welcome to SAP Labs Latin America

SAP Labs Latin America is SAP's organization dedicated to research, development of applications and support services for Americas. Founded in 2006 in Brazil, it is based in São Leopoldo, and is the first and only SAP Labs in Latin America, one of the 20 worldwide. 
Our vision is to help the world run better. We believe that we can play a major role in optimizing business to be more sustainable in the future. We have an extraordinary opportunity to apply technology to change the world while simultaneously improving peoples' lives.
Our mission is to help organizations become best-run businesses. We develop innovative technologies and design elegant solutions that can work on any device and can delight consumers, this is the heart of our product development strategy.
Our culture of success is based on teamwork, integrity, accountability, professionalism, and trust. We are motivated to be an amazing company to our customers, employees, ecosystem, and influencers through our passion for winning and for our commitment to developing true partnerships.

We are all innovators
Our strategy to innovate.
All SAP employees are innovators. Our programs are designed to include all colleagues, performing real innovation in different ways.

To engage all the different agents of the SAP ecosystem and provide their digital transformation through technology.

To foster innovations in SAP by engaging with customers and develop solutions based on their real business challenges.

SAP Innoweeks
Our long-lasting co-innovation experience with SAP customers, field teams and the ecosystem. Every year SAP Labs Latin America organizes an innovation hackathon for 6 weeks, where we engage more than 100 SAP experts to tackle our customers' challenges by creating intelligent enterprise solutions.

Global Solution Delivery Center
Delivers consulting services through a globally integrated remote delivery model to help SAP customers run at their best.
Globalization Services
Entitles all businesses to run compliant locally and compete globally. Enables legal compliance for customers, delivers local best practices and provides multi-language capabilities for SAP solutions.

Innovative Business Solutions Organization
Empowers visionary enterprises to achieve their greatest goals through unique, leading-edge software innovation.

Mission Control Center
Drives customer long-term loyalty to protect maintenance and cloud subscription by supporting customers in critical situations in their journey to the intelligent enterprise.
Partner Experience Delivery
Delivers the best partner experience in the industry, enabling our ecosystem of over 17,000 partners to sell, implement, develop and host SAP software.
Product Support
Provides product support for SAP customers in the American Continent, covering support for the entire stack in digital core, platform, intelligent technologies, customer experience, S/4HANA Cloud, commerce & CDC.
SAP Data Management Brazil
End-to-end platform for Data Science and Data Warehousing through multiple connectivity, data preparation, pipelining and metadata governance.
Life at SAP Labs Latin America
SAP values the entrepreneurial spirit, fostering creativity and building lasting relationships with our employees. We know that a diverse and inclusive workforce keeps us competitive, innovative and provides opportunities for all. We believe that together we can transform industries, grow economics, lift societies and sustain our environment. We foster our employees to be in the forefront of Diversity and Inclusion causes, working in the day-to-day to make our company a better place. 

SAP Labs' Employee Network Groups:
Autism at Work
Black Employee Network (BEN) 
Business Women's Network
Cultures @ SAP
Different-Abled People @ SAP (DAP)
Generations @ SAP
Pride @SAP
Corporate Social Responsibility (CSR)
SAP Sustainability and Corporate Social Responsibility focus on outgrowing our purpose to help the world run better and improve people's lives. We believe social, environmental, and economic activities and performance are interrelated, each impacting the others.

In SAP Labs Latin America, our social projects are part of three pillars:
Best-run NGOs
We carefully select partners, primarily in the areas of quality education, workforce readiness, and entrepreneurship to co-develop and co innovate programs. We provide support to early stage innovation and new ventures, while also accelerating and scaling the impact of mature nonprofit organizations and social enterprises.

Digital Skills
Our digital skills programs generate inclusive opportunities and better education for low income students, communities, and schools.
Connecting People with Purpose
Aligned with United Nation Sustainability Goals, we run the most traditional volunteering actions, impacting our local community. Projects with local schools, where we help donating school supplies or refurbished computers. We also run projects with immigrants and refugees, food and blood donation, cleaning and renovating public spaces, and more.

Benefits
No matter what phase of life you are in, SAP Labs Latin America provides you the best benefits to help you nurture your career. Whether you're straight out of college or a working parent, we have something for everyone.

Flexible benefits: choose according to your needs
Competitive salary + yearly bonus
Innovative workplace
Private Transportation
Home office
Wellbeing practices (Massage, Gymnastics, Psychologist, Nutritionist and more)

Be an intern
At SAP, we believe experience and opportunity are paramount. Our interns step into dynamic teams and work on creative projects and campaigns that hit the bottom line, develop some of the latest technologies and products, learn from business executives and meet with top talents around the world!

iXp
The SAP Internship Experience Project connects students with opportunities. The focus is for interns to gain experience through dedicated projects, active learning, and a strong focus on career development. We are on a journey to fuel the next generation of innovative, capable and eager individuals, and are excited to join efforts with you.
Rotation
The Rotation Program is a unique internship program that allows students to rotate up to 3 different areas for two years, acting in a wide range of projects and activities.

Glassdoor
1st Best place to work in 2020 in Brazil per Employees and Interns' choice.

GPTW 2020
2nd Best Company to work for in Brazil among all Technology companies
5th Best Company to work for in Brazil among all big-sized companies

Stay in touch on social media
SAP Labs Cast
Our Labs produces special podcast´s episodes for SAP Cast in Portuguese. You can hear our experts talking about topics such as innovation, career at SAP Labs Latin America, social projects and diversity and inclusion.
Where do SAP Labs Latin America employees work?
We have an amazing building inside a university´s campus, but we also work from home when we need. Take a look at our office!